A GOSC SDG-13 CS Southeast Asian kickoff
Date: May 26, 2023
The Global Open Science Cloud (GOSC) SDG-13 International Workshop concluded successfully during 16-18 May 2023 in Bangkok, Thailand. Convened by the GOSC International Programme Office (GOSC IPO), this hybrid event received support from the Committee on Data of the International Science Council (CODATA), National Research Council of Thailand (NRCT), Chinese Academy of Sciences (CAS), as well as START Regional Center for East Asia, and CAS-TWAS Network for Sustainable Development.
Co-chairs of the GOSC SDG-13 Case Study, Professor Monthip Sriratana and Professor Gensuo JIA, co-organized this conversation. First, the vice President of CODATA and PI of the CAS GOSC project, Professor Jianhui LI, made an opening remark. "Southeast Asia is a good starting point, that through practical technical validations and demonstrations, GOSC will be dedicated to promoting open science with worldwide stakeholders," he said. Followed presentations highlighted SDG-13 data resources, technologies, and showcases, focusing on the Southeast Asian regions. Moreover, the China Science and Technology Cloud (CSTCloud) representatives shared their insights on the future development of cloud federation, emphasizing the importance of deploying cloud federation to promote interconnectivity and interoperability among different research e-infrastructures across domains and regions.
Besides, panel discussions addressed the challenges in SDG-13 research, applying Open Science and emerging new technologies in relevant research, and exploring potential collaboration between multiple stakeholders. Followed internal working meeting featured collaborations on upcoming GOSC events, highlighting consolidated alignment in southeast Asia. Besides, the technical team reached a consensus on co-building the SDG-13 community and co-developing an open data-sharing platform, focusing on subtopics, such as seasonal and sub-seasonal climate prediction, extreme weather forecasting, and others supporting disaster mitigation. Moreover, GOSC representatives also visited the Asian Institute of Technology (AIT), where they were warmly welcomed by the Belt and Road Research Center (BRRC) to several AIT labs for sustainable development research along the Belt and Road and others.
GOSC IPO was jointly established and collaboratively supported by CODATA and Computer Network Information Center of the CAS. As the first international, on-site event facilitated by GOSC IPO in 2023, the success of this SDG-13 Thailand working meeting undoubtedly promotes mutual-beneficial collaboration within the SDG-13 community in Southeast Asia. The insightful presentations, in-depth discussions, and interactive on-site visits generated inspiring ideas for current GOSC collaborations with potential user groups while facilitating seamless communication between stakeholders. This workshop also tightens the connection between GOSC IPO and the START Regional Center for East Asia, CAS-TWAS Network for Sustainable Development, and the Belt &Road Research Center, Asian Institute of Technology. These centers will join together to support SDG-13 research in ASEAN countries, thus helping to expand GOSC's regional and global influence. (Xueting LI, Lili ZHANG).
Workshop Co-chairs
(From the left to the right are: Professor Jianhui LI from CNIC, CAS, Professor Gensuo JIA from IAP, CAS, and Professor Monthip Sriratana from NRCT)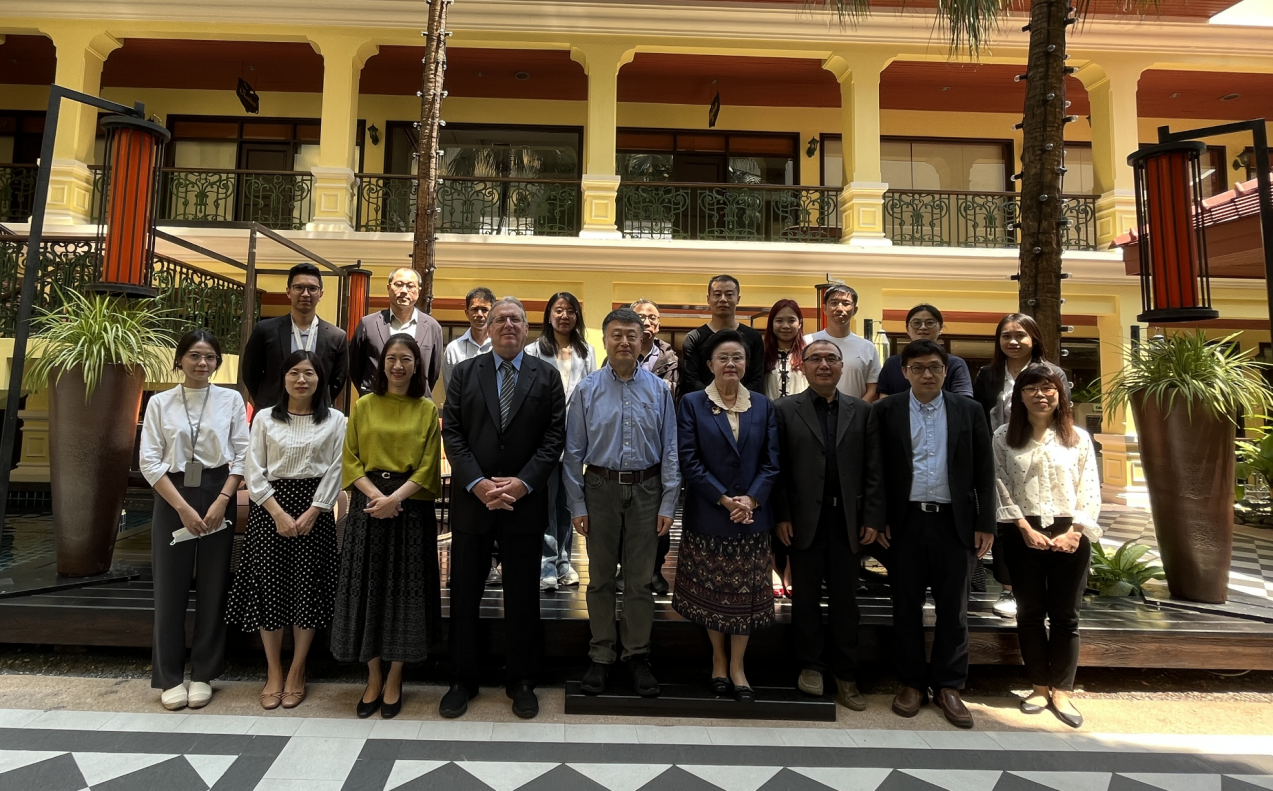 Group Photo
For more about the Global Open Science Cloud Initiative:
Please stay tuned at: https://bit.ly/3jwZHNg
Sign up to join GOSC at: https://bit.ly/GOSC-Sign-Up