National Basic Science Data Center
Date: Mar 23, 2023
National Basic Science Data Center
, as the only center houses all cross-domain basic science data among 20 national scientific data centers, wa
s developed based on a national science and technology resource sharing platform established by
42
research institutions affiliated to the Chinese Academy of Sciences, Ministry of Education, Ministry of Industry and Information Technology, Ministry of Agriculture and Rural Affairs and other organizations. The center
also develops technical standards, software stacks and user portals for open data and knowledge services
.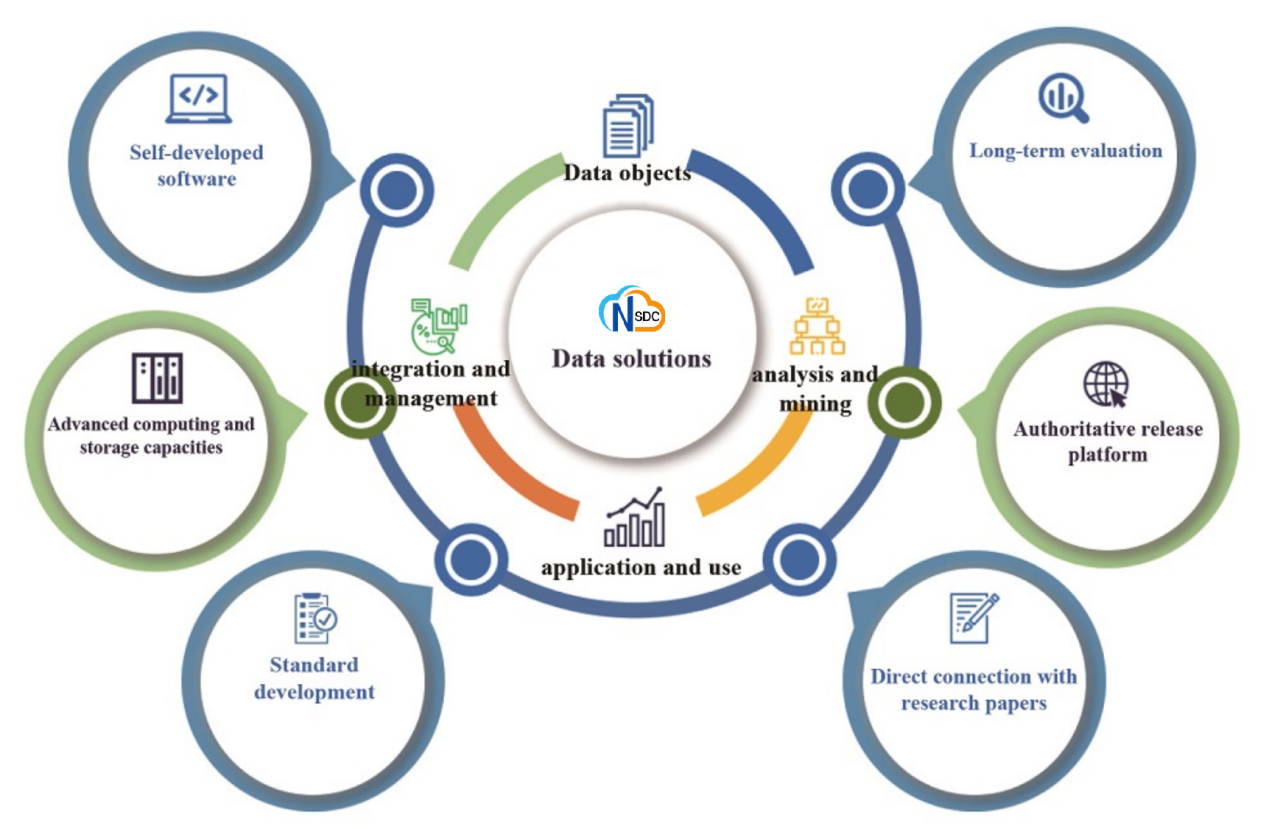 Overview of data solutions provided by the center
In terms of resource construction, the center has systematically integrated basic science data in various disciplines such as physics, chemistry, materials, animals, plants, viruses and computer science, frontier research areas such as brain and cognition, stem cells and metabolism, as well as geographic regions such as Qinghai Lake, Heilongjiang and Xinjiang. The center has accumulated a total of over 2.7PB of data resources including 2 sub-centers and 22 subject databases. A diversified service system has been established based on the portal to provide data services, information services and knowledge services addressing the whole research data lifecycle.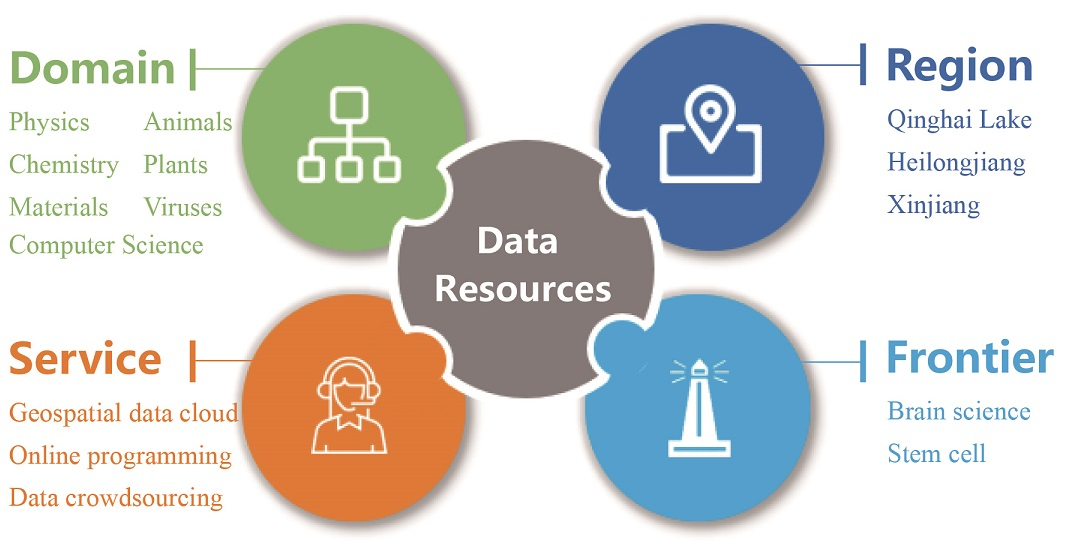 Overview of the Data Resources
In terms of capacity building, the center has developed 34 management regulations, 57 specifications and 23 national standards. The center can provide one-stop solution and comprehensive technical support based on its advanced cloud computing and cloud storage infrastructure. A team composed of 116 professionals (60 full-time and 56 part-time) has been established to work on various aspects such as portal construction and management, data analysis and mining, data sharing and technical support. An expert group consisting of 4 academicians and 21 professor-level researchers was formed to provide advice and recommendations to the center.
In June 2020, China launched the scientific data archiving of "National Key R&D Program of China" projects. The center actively undertook the task of archiving scientific data from the field of basic disciplines and supported the completion of the comprehensive performance evaluation of more than 1,700 projects by the end of 2022. The crowdsourcing pattern has attracted nearly 5,000 contributors, providing more than 100 crowdsourcing services. The center has provided services to more than 1,000 key research projects, with more than 4,000 citations in research papers. The center has supported scientific research and socio-economic development in various areas such as medicine development, natural product research, new materials development, disaster assessment, environmental protection, child development and control of viral infections and diseases.